I've received a lot of questions about Yosemite, so I thought it might be helpful to put my thoughts in one place. So, I hope that maybe this will be helpful to you in some way, or will inspire you to visit the greatest national park in the world!
I am not biased at all. Anyway, here you go!
Winter: Sari and I took a day trip in February a couple of years ago to see the firefall. Despite this scenic wonder, the park was very uncrowded as most of the trails are closed for winter. Additionally, none of the food joints in Half Dome Village were open. Winter would be a great time to go if you just want to hang out in the Valley relaxing.
Spring: I have been twice in spring, once in March and most previously in April. March was exceptionally uncrowded, but a lot of the trails were still closed due to snow and the waterfalls were not quite rip roaring yet. It was more crowded in April, but not to the point where driving and parking was a pain. The waterfalls totally made it worth the additional people.
Summer: Just don't do it. Seriously. I know not everyone has that luxury, but if at all humanly possible, NEVER GO IN THE SUMMER. More specifically, early May until late September is a MADHOUSE. When we went several years ago during July, the parking situation and crowds were awful. If you go in summer, then get there very early in the morning, and start seeing things as soon as there is light. Leave your car parked somewhere like Yosemite Village or Half Dome, then shuttle around. Do not even try to drive around after mid-morning because you may never find parking again.
Fall: I LOVED my trip last fall. The colors were breathtaking and the park was practically empty. As with the spring, you risk snow closures, but I loved this season in the park.
WHERE TO STAY
BOOK EARLY.
Campsites: To stay in a Yosemite campsite, you will need to book a space at Recreation.gov or take your chances in Camp 4. More on Camp 4 later. This site has all the information you need on opening and closing of campgrounds and other details for making reservations.
You can find the details on booking windows for each campground on the Recreation.gov website, and you need to be ready to reserve when that window opens.
They usually open once a month for a new five-month booking window. Campgrounds like Tuolumne Meadows will often sell out in a minute. Do all of your research beforehand, know when the window opens, already have an account set up, and BE READY to book that baby. It is not so bad in early spring/late fall/winter, but getting a site from May to late September seems like a miracle will be needed.
Additionally, if in the above example your day of arrival is November 14th, but you are staying until the 19th, then you can still book the site for those days even though the subsequent nights are outside of the window opening on June 15th.
The booking window currently opens at 7:00 AM PST, so ready yourself. It is best if you can have multiple people trying for different sites in one campground in the hope that at least one of you secures a location during busier seasons. Be sure to already have potential site numbers selected. This website has a good tutorial on the details of getting a site on Recreation.gov.
Camp 4 is a no reservations spot, and there are up to six tents in one site. That means up to five tents of strangers within like 10 feet of you. No thank you. Also, people tend to spent the night in the line and there are typically more people in line than there are available spots by the time the ranger arrives. I am not about that life. I need my space and the relief of a confirmed reservation.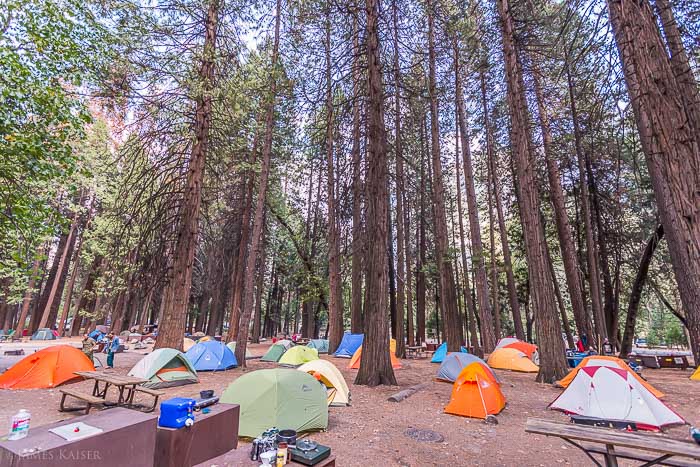 Hotels/Cabins in the Park: 
Yosemite Valley: The site that I think is the easiest to make reservations with is Travel Yosemite. There are a few other sites, but they do not show you whether or not there is availability (you submit your reservation, then they email you to tell you if there is space).
When I was in high school we visited Yosemite and stayed in the Yosemite Cabins with Bath in Half Dome Village (née Camp Curry). The cabins were really nice and have their own bathrooms which is handy. I have since stayed in a Heated Canvas Tent Cabin. I love Half Dome Village and I think it is the best location in the park. With the exception of winter (because they are closed), you are close to several food spots and a general store. The Village is also near several trails and a shuttle stop. I thought the shared bathrooms were clean and easy to access.
I have not stayed at any of the other hotels in the park because they are usually really expensive. I would LOVE to stay at the Awahnee Hotel (now Majestic Yosemite Hotel) one day, but I will save it for a special occasion. If, like me, you are not in the mood to drop $500 for one night there, then I definitely suggest at least walking through the hotel because it is beautiful. The dining room is also spectacular and I enjoyed some expensive pancakes there (worth the view!).
A lot of people I work with LOVE staying at Tenaya Lodge. It is not in the Valley, but it is still in the park.
Outside of the Park:
I have stayed twice at Yosemite View Lodge and it is very affordable in the off season (often less than $100), and a lot of the rooms offer a great view of the roaring Merced River. It takes about 30-45 minutes to get down into the Valley, but it is about as close as you can be without staying in the park. I have also heard a lot of good things about Rush Creek Lodge. It is about the same distance from the park, but has a lot of amenities if you are looking for more of a resort style experience (same with Tenaya Lodge). I know there are a ton of other places, but I do everything I can to stay in the park when possible. You cannot beat waking up in the Valley!
HIKING:
You can find all of my reviews of hikes on this page. I have never taken a hike that I would not go on again there. They have ranged from the very easy to the very challenging, but they were all spectacular. One of my favorite things about Yosemite is how accessible it is. A lot of it is ADA friendly, and I have seen quite a few people using wheelchairs around the park. You can see a lot without every having to actually take a hike. You can also rent a bike and ride it all the way around the valley. It is a great way to get some views without having to worry about parking. If you have any specific questions, then please do not hesitate to leave a comment or email me.
PICTURES:
The question I get most often is where I was when I took a specific picture, so this is a long section, but here are my favorite spots!
Tunnel View:
This is my FAVORITE view of Yosemite. It has everything: Half Dome! Trees! Bridalveil Fall! El Capitan! Mountain majesty!
Valley View Yosemite:
The above is probably my favorite photo I have ever taken. I still cannot believe how gorgeous the light and colors were that morning. I have been to this spot several times, and the best pictures are on a completely still and cloudy day in the morning. Here is what it looks like on a sunny morning:
Still beautiful, but totally different. It is a teeny tiny parking lot and it kind of comes out of nowhere, so be looking for it as you head out of the park on Northside Drive.
Swinging Bridge:
Great spot to get some shots of Upper Yosemite Falls. DID YOU KNOW I HIKED TO THE TOP OF THAT THING? I want that carved on my tombstone. I DID A HARD THING.
Columbia Rock:
This a little under a mile into the Upper Yosemite Falls Trail. The trail follows this view for a bit before you get to Columbia Rock. After that point, a steep ascent begins, but you can see some great views without going all the way to the top. I just cannot even begin to explain to you how huge and powerful that waterfall was.
Full Yosemite Falls:
This is my favorite spot because you can see the full breadth of the falls. I like to park at Yosemite Valley Lodge, then walk towards the falls on the Lower Yosemite Falls Trail.
Clark's Point:
The hike to Clark's Point from Nevada Fall on the John Muir Trail offers a spectacular view of Vernal Fall. It is also a great way to avoid people and going down steep wet stairs on the Mist Trail. I recommend hiking up the Mist Trail, then taking John Muir back to the Valley. Once you get to Clark's Point, then you have a breathtaking view of the mountains and Nevada Fall.
Glacier Point:
This another of my favorite views in the park because you can see so much with so little effort. The road is closed for much of the year due to snow, but when it is open, the view is unbelievable. You can see all the way from Vernal and Nevada Falls to Half Dome, across the Valley, and back out toward El Capitan.
So, this was super long, but that is what I know so far! I still have so much exploring to do and have spent no time in the High Sierra. I am VERY excited that the Mariposa Grove is FINALLY reopening. It has been three years!!!
If you have any questions, please let me know!