I send out the messages to campus from my boss, and part of that exciting task is monitoring the email account from which those messages are sent. Every time we send a campus message, I get a smattering of "unsubscribe" or "stop sending these" responses. I have no control over who gets them individually as they are automatically populated by lists of current students, faculty, and staff.
Most recently, I replied to a student to let him know that I could not unsubscribe him and that while I understood that he felt the messages were irrelevant, they often include important information for students (like about graduation). He took the time to come to my office to tell me in person that he already has to deal with "three of four emails a day" and "he doesn't need one more email cluttering up his life about a Provost leaving." Three or four, y'all! A college student who not only gets just three or four emails a day, but has the audacity to be hassled by THREE OR FOUR EMAILS.
Bless your heart, kid.
On Sunday, I decided to manage my anxiety and dour mood with some serious cleaning and organizing. At least I could have control of SOMETHING in my life. So, I worked on my clothes/shoes/accessories and bathroom for most of the day. I have cleaned my closet out a few times since I moved here, but have not really gone through things in what I consider to be a realistic manner. Y'all. I found things that were a size 0!!!! A SIZE 0!! There were a couple of years where I could wear that (it was J.Crew which used to run quite large, so it is not an actual zero), but it was a DECADE AGO. I moved clothes halfway across the country that have not fit in a DECADE.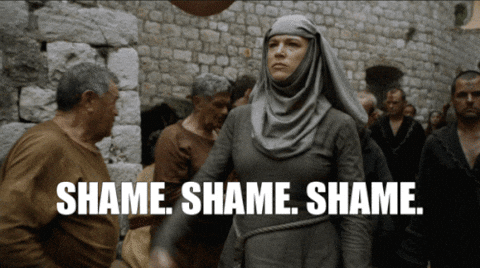 I was so embarrassed for myself. I finally gave up the ghost of body past and got rid of everything that more than one size smaller then what I currently wear. I was also mortified by the amount of Forever21, American Eagle, Abercrombie, and Express stuff I had from years and years and years ago. I still had skirts from college. I have no business wearing a skirt that I wore in college. And I do not mean to disparage those who shop at those stores, but what I owned was cheap crap that was horribly out of style (and also largely way too short for my 34 year old comfort level). The whole experience was me shrieking with horror every time I pulled out another polyester Express top with ruffles and a belt (REMEMBER SHIRTS WITH BELTS). I got rid of about half of my stuff and I feel a lot better now.
I relived a lot of fashion trauma, but now I have so much more space! Just to be clear, I am absolutely not trying to live a minimalist life or do that crazy capsule wardrobe nonsense. I NEED OPTIONS.
The post WTF Wednesday appeared first on Running off the Reese's.