I had quite the lovely weekend which kicked off with a cheese and champagne happy hour at my friend's house on Friday. I still cannot get over that people here can just sit outside in the shade in the evenings when it is 100 degrees and not die of heat stroke or mosquitoes. It is SO NICE in the shade. I brought a cheese plate and even added fruit so it's practically a summer salad.
I was very grateful for the friend time because last week was pretty hard. I went to the funeral on Thursday for Tara O'Sullivan and it broke my heart all over again. Twenty-six year olds should not die. They just shouldn't. Next week marks five years since we lost our wonderful friend Caroline (who was also 26). My sadness over Tara has been further compounded by the anniversary of Caroline's death. Tara reminds me a lot of Caroline, and it is hard to fathom how two young women who were so full of life, love, and humor can be gone. Time does not heal all wounds, and all that happens is the ongoing gut punch of how long it has been since you last saw your loved one. I miss this kid SO MUCH. She was such a firecracker.
The stress and sadness of the week caught up to me on Saturday, so I slept in and then took a long nap. It was nice to have some time to myself to decompress and rest. That evening, I met up with some other friends for dinner and we went to the Khalid concert together. I love his music so much, and even though we were probably the only people there who were old enough to remember 9/11, it was a great time. Khalid was grinning from ear to ear for most of the show and we squealed over his cuteness like a bunch of proud grandmas. He really has one of the sweetest smiles ever!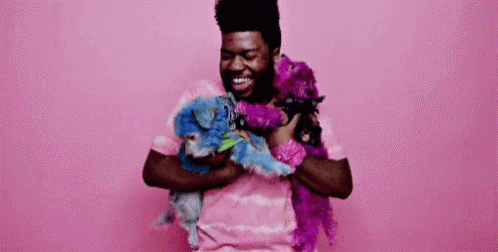 My parents arrived late Saturday night and we spent Sunday running errands around town. They are here for the next week and we have a lot of fun things planned. My mom also showed up with cinnamon rolls from one of our favorite bakeries (Erik Shat's in Bishop, CA). It was a great way to start the week!
Of Note: WHERE DID JULY COME FROM?