I spend a lot of time reading about crisis management, safety, and campus response issues at other colleges and universities. Since working in a President's Office, I have learned how incredibly challenging it is for police to actually do something when someone on campus feels like they are in danger. There are also so many chances for failure by too many people because humans make mistakes. I spend a lot of time worrying about how adequately we are protecting our students, specifically those in dangerous romantic or dating situations. The most recent is the murder of University of Utah student, Lauren McClusky, by her ex-boyfriend. He shot and killed her while she was on the phone with her mother after a class on campus.
It is an absolute tragedy, and I hope that we all learn from how her concerns were handled and investigated. I have thought a lot about Lauren McClusky's death in recent weeks because a woman I grew up with was also murdered just before Christmas. I am writing about this because telling people who are afraid to simply "go to the police" is not enough to keep them safe. I am not blaming law enforcement for these tragedies, but the current system is not working. Trigger warning: This is a brutal story involving firearm deaths and severe harm to a small child.
Shelly Gray grew up in the same small town I did. She was a grade ahead of me and I knew her through 4-H, softball, basketball, and school (small towns have small schools). I always remember her as being funny with a huge smile and boisterous laugh. She was athletic, smart, and well-liked in school. I never remember anyone having an issue with her. She was just an all-around nice country girl from a nice family. Here is Shelly with her parents, Bob and Sherry Gray, and her son Corden.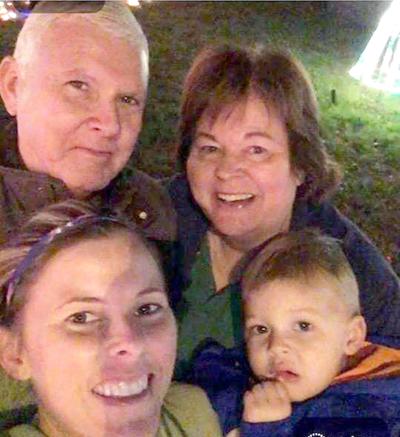 She went to college to get a teaching degree and eventually married a guy from our hometown, Matt. They had a little boy named Corden who is now four.
They divorced a few years ago and have both remarried. Shelly married another guy named Matt last May. She was a schoolteacher in Belton. On December 3, Matt threatened Shelly and told her to leave his house. She moved out and stayed with her parents until Dec. 6. On Dec. 8, she got her own place and only told her parents and Cord's father where she lived. On Dec. 14, Matt followed Cord's bus and Shelly told him that she wanted to be left alone and have no contact. On Dec. 17, Matt asked Shelly to meet and she again told him to leave her alone. Matt also started sending threatening texts to both Cord's dad (the first Matt) and Shelly's mom, Sherry, telling them that "Cord is in immediate danger." It makes my heart stop to thinking about getting a text like that from a man who the mother of your child is afraid of.
On Dec. 19, Shelly was granted a protective order against her husband. Shelly's affidavit listed specific instances when Matt tried to hurt her and the sheriff's department found that he was a "clear and present danger" to Shelly and her family. The sheriff's department attempted to serve the order to Matt on the 19th, but were unable to locate him. A court hearing was scheduled for Jan. 2. Matt was ordered to "seek help for mental issues" and was not to go within 200 yards of Shelly, Cord, Shelly's parents, or any of their property, schools, or workplaces. He was also not to have a firearm, but we all know how well that works.
Just after 6 a.m. on Thursday, Dec. 20, Shelly walked Cord out of their house to meet his bus. As the bus pulled up, Matt charged them shooting Shelly multiple times and little four-year old Cord five times. The bus driver (thankfully no kids were on the bus), called 911 immediately. The police arrived in minutes and found Shelly deceased upon their arrival. By some miracle, Cord was still alive.
As they were loading him into the ambulance, they heard more shots from inside. Negotiators tried to talk to Matt, but he never responded. Several more gunshots were heard, then SWAT officers entered the residence. Inside, they found that Matt had taken his life and had also murdered Shelly's mom, Sherry, who was staying with her.
Cord was shot several times in the abdominal area and in the head. Somehow that bullet did not cause any significant damage despite traveling through his brain. Apparently, because he is so young, his body will heal a lot of the damage on its own. He has been in the hospital undergoing countless surgeries since December, but he is healing. He has mostly been sedated in order for his brain to heal, but he did manage to wave last week and wiggle his toes on command. If you would like to support Cord in his recovery, you can donate to their Go Fund Me page.
Cord's stepmom is awesome and has been updating on Facebook almost daily. It is painful to think of the day that he understands that his mom and grandmother are gone, and while no one can ever fill that void, I know that he is deeply loved by his dad, stepmom, family, and the community. Shelly's parents were super involved in Cord's life, and my heart breaks for her dad. In one morning he lost his only child and his wife, and now he has to watch his precious grandson fight for his life. That grief feels impossible to live with.
Sherry was a school teacher for 34 years, and the loss has been devastating for the entire area. People were in shock over the break, and almost every conversation ended in tears because it so unbelievably horrific. I feel so much grief for everyone who knew this family, and I know that Matt's family is devastated. They not only lost their son, but they lost him through one of the worst acts of violence I can imagine. Shelly and Cord were their family too, and I really feel for his family during this time of sorrow.
I still feel extremely angry that this happened. Two good people were taken out of this world by a man who was angry. I don't know what better option there is than the protective order, but those do not actually stop someone like this. The consequences did not matter. I also know that it is extremely hard to get one even when you are legitimately scared. I also understand that they use GPS ankle monitors at times, but it is still a race with the clock for the police to stop him if he starts to get near Shelly or her family. And what if he had accosted them at a grocery store? The GPS would not have told the police that he was stalking her there. I have no idea what the solution is, but when so many people still end up dead after a protective order is filed, it just seems like something is not working.
I am not writing this for sympathy or trying to make this sound as if this was my personal loss. I have not seen Shelly since high school, but I feel incredibly sad for the friends and family of the Grays. I am sad that so many people I know are heartbroken over their loss. I write it because this should never have happened. We have deeply ingrained problems with violence in this country, and women and children are paying the price. No one ever deserves this kind of violence, but it is extra painful when it happens to good people.
The post Shelly appeared first on Running off the Reese's.