Yesterday, I went back to work after two glorious weeks of vacation and UGH IT WAS SO HARD.
I am incredibly grateful I got two weeks of vacation, but it is never enough. I could hardly remember how to function yesterday. I had to put on real pants without a stretchy waistband! Last week, I went to a family wedding, got to see some of my friends, and enjoyed a full day of laying on the couch watching Band of Brothers with my dad. I even got to spend time with Jenifer and her little nugget. I cannot believe she's about to be one! She is so freaking cute I can barely stand it.
On Wednesday, my mom and I left Texas to head back to California. We stopped in Midland to visit with family, then drove to Tucson that night. We stayed at the KOA outside of town and it was really nice. Unfortunately, the sun came up around 4:30 am and we were COOKING in that tent by 5 am.
We got an early start on Thursday and I got pulled over shortly after we got on the road. I was driving a rental (while my Jeep was getting fixed from the accident), and that dang Hyundai Tucson was just too smooth of a drive (I really loved this vehicle FYI). When the cop pulled me over he said I was going 92 in a 75, and I prepared for a big ol' ticket. Instead, he asked if I was driving my own car and when I replied that it was a rental, he then proceeded to explain what cruise control is and how to set it in my car. I was going 17 miles over the speed limit and he did not give me ticket or warning. I have never been so happy for someone to think I'm dumb.
Also, it is not lost on me that only certain people get the benefit of doubt from police.
We continued west and stopped at Joshua Tree National Park to stretch our legs.
I am so glad my mom rode with me because it made the drive so much better. It was so nice to get extra time from her. She's a huge Elton John fan, so on Saturday we went to see Rocketman together. We LOVED it. There were several points where I forgot that Taron Egerton was not actually Elton John. He was so fantastic.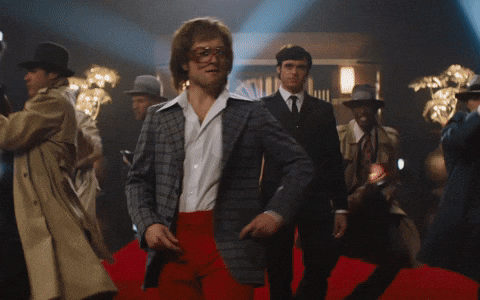 I also watched Always Be My Maybe on Netflix which was as delightful as everyone said it would be. Ali Wong is a damn treasure.
I am house sitting for my friend Jennifer for the next couple of weeks while she is gallivanting around Italy, so I have been enjoying time at her house with her pool and her furry potatoes.

My mom flew home Sunday, so I spent the afternoon reading at the pool with the pups. I also watched Good Omens on Amazon Prime and I am so happy with it. I loved the book and I was not sure how well it would translate on screen, but they did an amazing job with it.
The post Sadcation appeared first on Running off the Reese's.