I recently stumbled upon a Condé Nast article on the Black Mamba Anti-Poaching Unit in South Africa and was completely amazed by what they have accomplished in a short period of time.
In 2013, Craig Spencer and Amy Clark founded the Black Mamba Anti-Poaching Unit to protect wildlife in South Africa. They mainly work in the Balule Nature Reserve and the Greater Kruger National Park where they protect more than 128,000 acres.
I need to take a three-month tour of the entire African continent ASAP. Every picture is just stunning.
The Black Mambas are a unit of 26-32 women. Each Black Mamba spends 21 days patrolling the reserves in uniform which creates a visible ranger presence to protect the animals. The Mambas start their day in military style and are issued daily orders for their patrols. The majority of the women come from communities surrounding the parks, and this is often their first full-time job after high school graduation. Their salary and other costs are covered by an environmental protection fund (you can support them here).
The Mambas are trained in tracking and combat, yet work completely unarmed. This job sounds so dangerous and scary (poachers AND scary animals like lions), and I really admire the guts of anyone who is fighting poaching. In 2014, 1,215 rhinos were killed in South Africa causing a 12,000% rise in rhino poaching since 2004. In 2015, the work of the Black Mambas led to ten straight months where no rhinos were poached on the lands they patrol. They have arrested six poachers, shut down camps, and reduced wildlife snaring by 76% since 2013. They have worked most effectively at freeing ensnared animals before they are killed by poachers.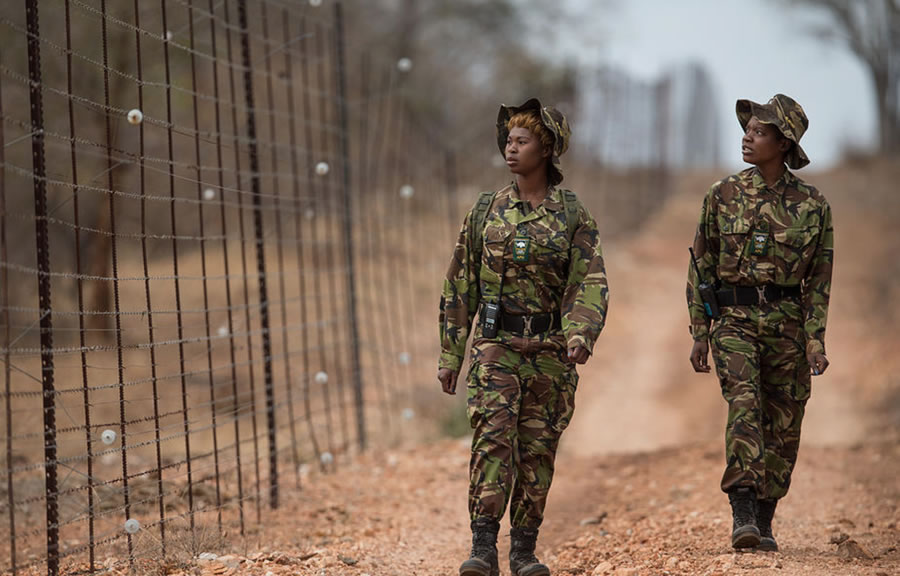 The team works within the framework of a "broken window" theory. They create spaces that are highly undesirable for poaching as the profitability is significantly decreased by the fact that their presence makes it harder to trap the animals.
As you can imagine, there was initially skepticism that women could effectively do this work, but the Black Mambas are now seen as heroes in their local villages. The women are incredibly committed to conservation, and are role models to their communities where they teach the importance of wildlife protection. In 2015, they established the "Bush Babies" program to teach children the importance of conservation. "Bush Babies" is one of the cutest things I have ever heard in my life.
In 2015, the Black Mambas won the Best Conservation Practitioner category in the South African Rhino Conservation Awards and the Champions of the Earth Award from United National Environment Programme (UNEP). A truly badass group of gals out there saving the animals!
Sources:
Black Mamba Anti-Poaching Unit
"Mostly female anti-poaching unit from South Africa wins top UN environmental prize"
"Meet the Black Mambas, South Africa's Fierce Female Anti-Poaching Unit