In my fifth grade American History class we had to give a presentation on an important person from the American Revolution. I chose Deborah Sampson because I always love a story about a lady scamming men. Tragically, my presentation was RUINED because I could not say her name correctly. I was only familiar with the name Deborah spelled as "Debra," so the entire time I was presenting on her I said "Duh-BORE-uh." That memory still wounds me to this day.
Anywho, I am going to talk about Deb-rah today despite the shame I feel over this horrible incident from 1995. Deborah Sampson was born in 1760 in Plymouth, Massachusetts. She had a shitty dad who abandoned the family (she was told he died at sea), and her mother was unable to provide for her seven children alone. As was common at the time, she placed them in the homes of friends and relatives. Deborah's mother died shortly after having to split up her children, and Deborah was sent to live with a preacher's widow, Mary Thatcher who was in her eighties. It is believed that Deborah learned to read during this time.
Widow Thatcher died, and Deborah was sent to live with a family in Middleborough where she worked as an indentured servant from 1770 to 1778. The family only believed in sending their boys to school, but Deborah learned from them as they shared their school work with her. When her servitude ended at age 18, she began teaching school in the summers of 1779 and 1780. In the winter she worked as a weaver and for various families in the area. She was also a skilled woodworker and made tools that she sold door to door. She made and sold her own pie crimper!!! Bringing the critical tools to the people!
At five foot nine inches, Deborah was significantly taller than both the women and men of her day. Her biographer, who seems unnecessarily harsh and judgy, described her as thick with small breasts and a regular face that was not the "most beautiful."
Seems to me like a lady who was built to kick ass! Boobs just get in the way.
In early 1782, Deborah dressed as a man and joined the Middleborough army unit under the name Timothy Thayer. She was 22 years old. She received her enlistment bonus, but never showed up when her company was called up. Her sergeant soon found out that she had been recognized while she was enlisting. She repaid part of her bonus and did not receive further punishment from the army. The Baptist church was PISSED though. They kicked her out and demanded that she apologize and ask for forgiveness which is a very Baptist thing to do.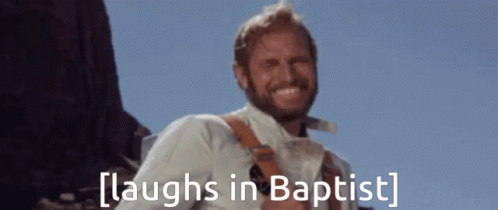 In May, she enlisted again under the name of "Robert Shirtliff" in the Light Infantry Company of the Massachusetts Regiment. Because she was in an elite unit, she had a better chance of going unrecognized since few would be looking for a woman among a group chosen for their physical ability and size.
Deborah fought in several skirmishes, but went into her first battle on July 3, 1782 outside of Tarrytown, New York. During the fight, she got a cut on her forehead and took two musket balls to the thigh. Fearing she would be discovered, she begged not to be taken to a doctor. A soldier loaded her up on horseback anyway and took her to a hospital. The gash on her forehead was treated, but she snuck away before they could deal with her leg. With a penknife and sewing needle, she removed one of the musket balls on her own.
The other ball was too deep to reach and her leg never fully healed. On April 1, 1783, she was reassigned and worked as a waiter for General John Paterson for seven months. Since there was no official peace treaty following the Battle of Yorktown, the Continental Army stayed in uniform.
In the summer of 1783, Deborah became ill and was tended to by Dr. Barnabas Binney. While treating her, he discovered that she was binding her breasts. He kept her secret, and took her to his house to recover and be tended to by his wife, daughters, and a nurse. After the Treaty of Paris was signed, Dr. Binney asked Deborah to deliver a message to General Paterson. Knowing that it was probably going to reveal her gender to the General, she prepared to be reprimanded. Instead, Peterson discharged her and gave her some advice and money to travel home. On October 25, 1783, she was honorably discharged in West Point, New York after serving for a year and a half. She is officially recorded as having served as Robert Shirtliff from May 29, 1782 to October 25, 1783.
Deborah married Benjamin Gannett in 1785 and they had three children. They later adopted an orphan named Susanna Baker Shepard. She and Benjamin farmed on land that had belonged to his family for several generations. Because the land was small and overworked, they lived in near poverty. She petitioned the Massachusetts State Legislature in 1792 for army pay that had been withheld because she was a woman. Her petition was granted and Governor John Hancock signed it. She was giving 34 pounds plus the interest that had accrued since her discharge in 1783.
She started giving lectures in 1802 about her military service. She would start by praising the traditional gender roles for women, then leave the stage and come back in her uniform. She would then perform military drills and a ceremony routine. Despite making money from these performances, it was not enough to support her family. She borrowed money from her friend Paul Revere who pestered government officials about awarding her a pension for her service and wounds. On March 11, 1805, she was officially placed on the Massachusetts Invalid Pension Roll and granted four dollars per month.
In 1827 at the age of 66, she died of yellow fever. She was buried at Rock Ridge Cemetery in Sharon, Massachusetts. Deborah took care of colonial BUSINESS.