Groundbreaking fashion-designer, Ann Lowe! You might not recognize her name, but I am sure many of you will recognize her most famous work:
Few people (including me) realized that Jackie's dress was the creation of the first African American designer to gain prominence in the country, Ann Lowe.
Ann was born in 1888 in Clayton, Alabama. Her interest in sewing and fashion came from her mother and grandmother who both worked as seamstresses for the high society ladies of Montgomery. When Ann was 16, her mother passed away unexpectedly. At the time, she was working on four ball gowns for Elizabeth Kirkman O'Neal, the First Lady of Alabama. At 16, Ann stepped up to the plate and completed the gowns using only the skills learned from her mother and grandmother. I cannot even fathom that kind of pressure at that age! Or, you know, having that kind of skill or talent, but Ann persisted!
In 1912, she married Lee Cohen. She had a son named Arthur, and her husband expected her to give up her work to stay at home. Ann left him when she was hired to design a wedding dress for a woman in Florida.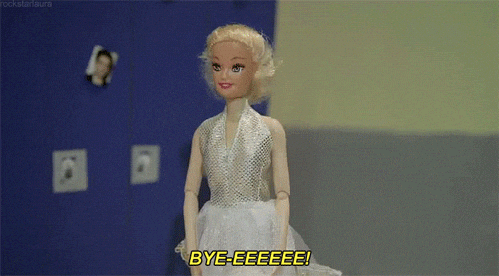 Ann moved to New York City in 1917 and enrolled in the S.T. Taylor Design School. She had to attend her classes alone in a separate room because the school was segregated. Despite that challenge, she completed her education in 1919 and moved with her son to Tampa. There she opened a salon called "Annie Cohen." The salon was a success, and she returned to New York City in 1928. She worked on commission for stores like Neiman Marcus, Saks, and Henri Bendel. Ann was working for another salon when Olivia de Havilland requested a dress for the 1947 Academy Awards. Olivia accepted the Best Actress Oscar for To Each His Own in Ann's design even though the original name on the dress was Sonia Rosenberg.
Ann and her son opened their own salon in New York City in 1950 called Ann Lowe's Gowns. She immediately gained many prestigious and wealthy clients due to her use of the finest fabrics for her one-of-a-kind designs. She was dubbed by the Saturday Evening Post as "society's best kept secret" and was known to be incredibly selective when it came to clients. She was a self-confessed snob (good for you, Ann) and stated, "I love my clothes and I'm particular about who wears them. I am not interested in sewing for cafe society or social climbers. I do not cater to Mary and Sue. I sew for the families of the Social Register."
She ended up creating designs for generations of the country's elite families like the Rockefellers, the Du Ponts, the Posts, and the Auchincloss clan. Enter the soon-to-be JACKIE KENNEDY. In 1953, Ann was hired by Jackie's mother, Janet Auchincloss, to design Jackie's wedding dress and the dresses for her bridal party. Ann had designed Janet's dress for her second marriage to Hugh D. Auchincloss. Jackie's dress was created with fifty yards of ivory silk taffeta and cost approximately $5,000 in today's money.
Despite the publicity surrounding the wedding, Ann did not receive credit for her work publicly. In fact, when asked, Jackie answered that it was designed by a "colored woman" which is incredibly disappointing. Ann's historic creation is on display in the Kennedy Library in Boston.
Despite creating designs for the richest people in the country, Ann was often talked out of charging her clients the full value of her work. She often failed to make any profit after she paid her staff due to these reductions. Ugh, rich people are THE WORST. She was virtually broke at the pinnacle of her career which is so upsetting. She lost her New York salon in 1962 after failing to pay taxes (yet, the Donald Trumps of the world don't pay taxes and are JUST FINE). Her poor luck continued when her right eye had to be removed due to glaucoma. During this time, an anonymous friend paid her debts which allowed her to finally work again. She developed a cataract in her left eye, but it was saved with surgery. She opened a new store, Ann Lowe Originals, in 1986 on Madison Avenue.
Lowe lived most of her life in Harlem apartment. She married a second time, but it did not work out. She also adopted a daughter named Ruth. She retired in 1972 and passed away in her daughter's home in 1981. In addition to the Kennedy wedding dress, her designs are on display at the Smithsonian Institutions National Museum of African American History and Culture, the Metropolitan Museum of Art, and were included in an exhibition at the Fashion Institute of Technology. What incredible talent she had.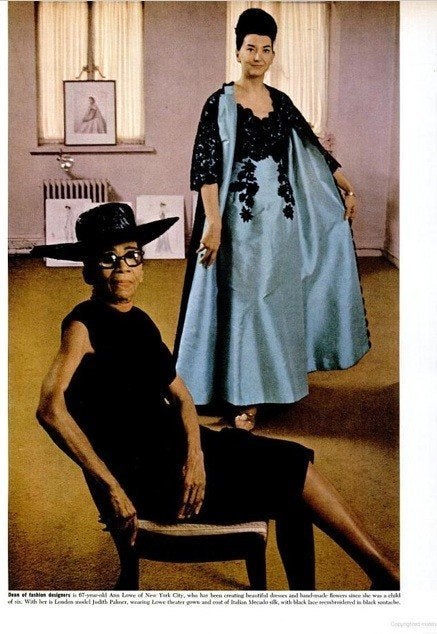 She created this gorgeous gown for the Aksarben coronation in 1961. The Aksarben "monarchy" was a TRIP.
Sources:
"The Remarkable Story of Ann Lowe: From Alabama to Madison Avenue"
"Wearable Art: This is why you need to know about Ann Lowe"
"Sewing for Joy"
"A Closer Look at Jackie Kennedy's Famous Ann Lowe Wedding Dress"