When I think of Tori Amos, I remember a HUGE argument I got into with an ex-boyfriend over the ASPCA commercial. He thought it was Tori Amos and I could not get him to believe  that it was SARAH MCLACHLAN. It was before either of us had a smartphone, so Google was not at our fingertips and we were trapped on vacation arguing about it FOR DAYS. It's weird we did not work out.
Anyway, most of us also know Tori as a hugely successful musical artist, but it was not until recently that I learned about her involvement with the Rape, Abuse & Incest National Network (RAINN). I do not know how I missed this because that is one of the resources I use most often for data points, so yay Tori!
Tori grew up in Baltimore, Maryland where she taught herself to play the piano and could reproduce musical pieces she had heard by the age of two. I think I was probably just sitting around crying about not getting enough snacks when I was two. At age three she was composing music, and at five she was the youngest person to be admitted to the Peabody Conservatory of Music where she studied from 1968 to 1974. At the age of 11, she was asked to leave which she believes was due to her interest in rock and pop music. In 1984, she she moved to LA to pursue a professional music career.
Tori went on to be a part of the Y Kant Tori Read pop group before becoming a hugely successful solo artist in the 1990s. She received eight Grammy Award nominations and has released 15 albums. She married sound engineer Mark Hawley in 1998 and has one daughter. On to RAINN and her activism.
When Tori was 21, she was leaving performance in Los Angeles when a man asked her for a ride home. She did not know to F*CK POLITENESS and let him into her car. He raped her at knifepoint and told her for hours that he was going to take her to his friends who would cut her up. She believed that the only reason she managed to survive was because he had to go get more drugs. This story makes me ill. Years later, after seeing Thelma and Louise, she felt compelled to speak about the assault publicly. She wrote the song "Me and a Gun" and performed it at her concerts until 2001.
After a performance in 1994, a young woman fainted during Tori's show and was brought backstage. She begged Tori to take her home with her because she was afraid of being raped again by her stepfather. Tori knew she could not take the girl since she was underage, but she was devastated that there was no advocate for her situation. Tori's record company put her in touch with Scott Berkowitz who is a co-founder for RAINN. Tori was their first spokesperson and remains active in the organization to this day. She currently serves on the National Leadership Committee and was the first person to answer the phone when their toll-free help line was established. For her 50th birthday, a concert in her honor raised money for RAINN.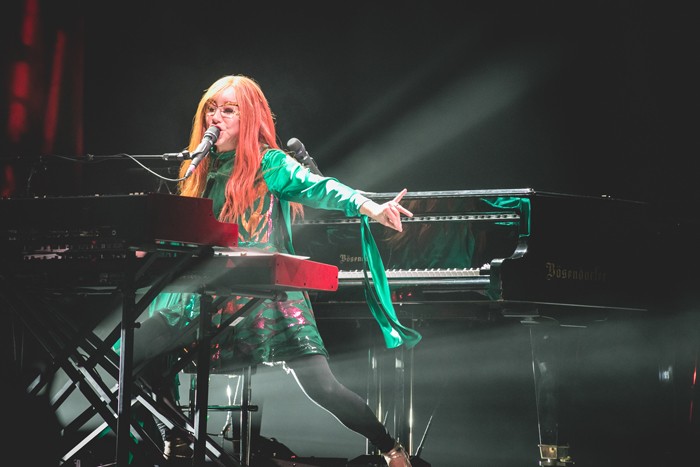 On the Friday Dr. Ford testified, calls to the center were up 738%. RAINN is the largest anti-sexual violence organization in the country. You can donate to support them here. If you need support, contact information is here.