This story is far from marvelous, but Anita Hill seems like an appropriate person to discuss right now. Anita is a brave, brilliant, and resilient woman DESPITE the herd of awful men who tried to destroy her.
Anita was born as the youngest of 13 in Long Tree, Oklahoma. She completed high school as valedictorian, then went on to graduate with a bachelor's degree in psychology with honors from Oklahoma State University in 1977. She graduated from Yale Law School in 1980 with her Juris Doctor degree. Shortly after, she was admitted into the District of Columbia Bar and began work at the D.C. firm of Wald, Harkrader & Ross. A year later, she was hired as an attorney-adviser for Assistant Secretary of the U.S. Department of Education's Office for Civil Rights, Clarence Thomas.
In 1982, Anita followed Thomas when he became chairman of the U.S. Equal Employment Opportunity Commission. She left the position in 1983 and went on to become a professor of law at Oral Roberts University, then later joined the faculty of the University of Oklahoma College of Law.
ENTER CONTROVERSY.
President Bush the First nominated Clarence Thomas to succeed Associate Supreme Court Justice Thurgood Marshall as a federal circuit judge in 1991. Despite the fact that Thomas had only served as a judge for just over a year, the hearings on his confirmation proceeded quickly due to his "good character" being presented as his main qualification.
There was little opposition to his appointment until a FBI interview with Anita leaked to the press. In October 1991, Anita was called to testify at televised hearings about her allegations that Thomas had sexually harassed her while she worked for him at the Department of Education. She was 35. THIRTY FIVE. I cannot even fathom facing that hearing at all, much less delivering my testimony with such eloquence and calm.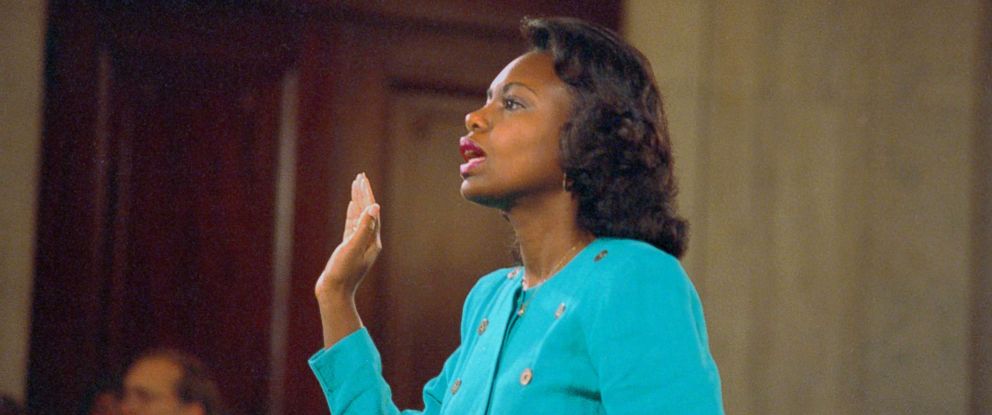 Because men suck and do not understand the limited opportunities that exist for many women (particularly women of color), she was questioned as to why she had followed him when he became chairman. She stated that it was a "reputable position" and would allow her to follow her ambition to continue work in civil rights. Anita later stated that she felt it was in poor judgement that she followed him, but explained that "at that time, it appeared that the sexual overtures … had ended."
Anita testified that Thomas had asked her out numerous times while she was his assistant, but she had declined his requests. She also stated that he had discussed sexual subjects at work including his own "sexual prowess" (EW) and descriptions of his own anatomy (EXTRA EW). She stated, "He spoke about … such matters as women having sex with animals and films showing group sex or rape scenes." SO MUCH EW.
Renowned douche Orrin Hatch, Republican Senator, claimed that Anita and her team of "slick lawyers" were working to destroy Thomas' chances at the seat. And while Hatch considered Anita to be a friend, he felt that her accusations were "particularly hurtful" TO HIM. UGH. The audacity. Such a great friend that Orrin Hatch.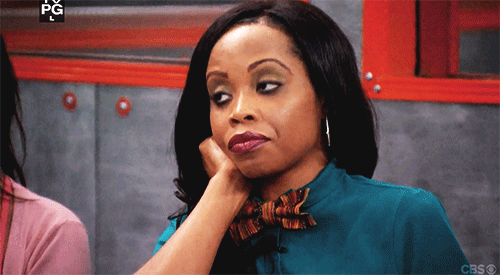 Anita had four female witnesses waiting to testify, but they were never called. According to the Los Angeles Times, the Republicans struck a deal with Senate Judiciary Committee Chair, Joe Biden (*SCREAMS AT JOE* – this is Biden's forever dark mark), to keep the women from testifying. Thomas vehemently denied Anita's accusations, and stated that white liberals were attempting to block a black conservative and that he was the victim of a "high-tech lynching for uppity blacks." That dang uppity Anita and all her smarts not wanting her former vile creeper of a boss to sit on the Supreme Court. HOW DARE SHE.
Per the usual, Thomas' supporters went after Anita claiming she was not credible because she was delusional after being spurned by Thomas and was seeking revenge. They believed that because she had followed him to a second job AND given him a ride to an airport this one time meant that her claims could not possibly be true. That makes total sense! She should have quit her job and lost opportunities because he was a creep! This is all her fault!
Due to a perceived lack of convincing proof during the hearings (because a woman's word is USELESS), Thomas was confirmed with a 52-48 vote by the full Senate in October 1991. It was the narrowest margin of approval in more than a century with 46 Democrats and only two Republicans (SHOCKER) rejecting the nomination. His ass still sits there today. Quiet as a guilty little church mouse.

Attacks on Anita's character and credibility continued long after her testimony. In 1993, David Brock wrote The Real Anita Hill in which he openly bashed her. He later recanted his claims and apologized to Anita for the "character assassination." TOO LATE. Other women later came forward and alleged that Thomas also subjected them to creepy sexual remarks. As usual, Thomas continued to believe it was a liberal conspiracy to keep a conservative off the court. He claimed that Anita was "touchy" and "apt to overreact." Don't you know? Anita was just another crazy woman trying to destroy a powerful man? Jelly hater.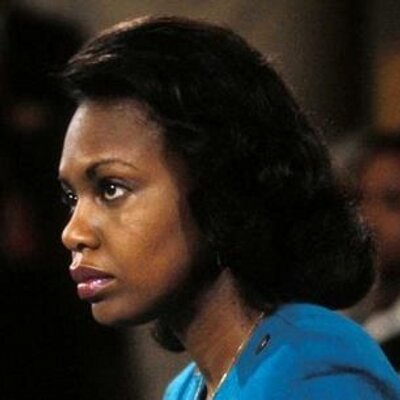 Thomas' wife even called Anita in 2010 demanding an apology for her 1991 testimony. THE GALL. Anita maintained that, "I testified truthfully about my experience and I stand by that testimony."
After the hearings, President Bush the First ceased his opposition to a bill that would give sexual harassment victims the right to federal back pay, reinstatement, and to seek federal damages. The law passed and harassment complaints in the EEOC went up by 50% in the following year. Public opinion continued to largely shift in Anita's favor over the following years.
In Oklahoma, conservative state legislators demanded that Anita resign from the University of Oklahoma. They even tried to pass legislation that would punish the University by not allowing it to accept out of state donations after a successful fundraising effort to endow a professorship there in her name. The bastards eventually tried to pass a bill to close down the law school!! Closing down an entire law school over a single inconvenient woman. The madness! Sadly, after five years of this mess, Anita resigned and the endowment was defunded in 1999.
Anita eventually accepted a position at the University of California, Berkeley, but soon moved on to Brandeis University. She initially taught in the Women's Studies Program, but later transitioned into the Heller School for Social Policy and Management. She has been interviewed numerous times on national television programs to discuss race and gender issues and has published numerous articles and books over the years. In 2015, the Brandeis Board of Trustees unanimously voted to promote her to Private University Professor of Social Policy, Law, and Women's Studies.
In 2017, Anita was selected to lead the Commission on Sexual Harassment and Advancing Equality in the Workplace to investigate sexual harassment in the entertainment industry. Last month, she published a piece in The New York Times about Christine Blasey Ford and Brett Kavanaugh. Despite all of the efforts to destroy her and discredit her, Anita has not slowed down.
Further reading:
"Revisiting What Happened to Anita Hill"
"Anita Hill was Joe Biden's Senate low point. Now it may destroy him for 2020"
"Column: Have we learned anything since Anita Hill and Clarence Thomas?"
"I broke the Anita Hill story. Here's what we need to learn from her treatment"