In the aftermath of Stephon Clark's death, the images of his devastated family are not ever going to be easily forgotten. Stephon's older brother, Ste'Vante, has experienced such a high level of distress that he checked himself into a mental health facility recently. The death of Stephon Clark is completely heartbreaking in itself, but imaging the long and painful road ahead for his family and friends is terrible. Over the past few weeks I've thought of other young men of color who have been wrongfully killed. One of the most famous is Emmett Till. I wanted to talk a bit today about his life and that of his mother, Mamie Till.
That sweet picture makes my heart hurt.
Mamie Elizabeth Till-Mobley was born in 1921 in Mississippi before moving with her family to Chicago. After her parents divorced at 13, she threw herself into her studies and excelled in school. Mamie was the first Black student to make the "A" honor roll and the fourth Black student to graduate from Argo Community High School which was predominantly white.
Mamie's mother had high hopes for her bright daughter, but lamented that her only ambition was to get married. At 18, Mamie met Louis Till, an amateur boxer who was popular with the ladies. Her mother insisted she end the relationship as he was "too sophisticated" for her daughter. She broke things off with Till, but he persisted, and on October 14, 1940 they were married. They were both 18. You just can't stop that young hormone-driven love! Emmett Louis Till was born nine months later.
The marriage was not meant to be, and they separated in 1942 after Mamie found out that Louis had been unfaithful to her. He was physically abusive when she ended the relationship, and she obtained a restraining order which he proceeded to violate numerous times. A judge forced him to choose between jail or the army (um…wtf?), and he enlisted in 1943.
In 1945, the Department of Defense informed her that Louis had been killed in Italy. She sought more information, but was only told that "willful misconduct" was the reason for his death. It wasn't until ten years later that she learned that he had been court-martialed on charges of the rape of two women and the murder of an Italian woman. He was put on trial, convicted, and executed by hanging in 1945.
Mamie remarried to Pink Bradley in 1951, but the marriage lasted less than two years. She continued to raise Emmett on her own and worked for the Air Force as a clerk in charge of confidential files. Emmett was known as a vivacious young man, and had even managed to make a full recovery from polio as a child. The polio left him with a stutter, but his community knew him as a deeply responsible and funny kid who loved to make people laugh.
In 1955, at the age of 14, Mamie put Emmett on a train to visit her relatives in Money, Mississippi. She never saw him again.
Before his trip, she warned Emmett that Chicago and Mississippi were two different worlds, and that he should know how to behave in front of white people. He assured her that he did. While lynchings were less common after 1930, racially motivated killings still occurred. Interracial relationships were forbidden, and even the suggestion of interracial contact between African American men and white women could have deadly consequences.
On August 21, Emmett went to Bryant's Grocery and Meat Market with his cousin, Curtis Jones, to buy candy. The store has other teens inside who were mostly the children of local sharecroppers. Curtis went across the street to play checkers while Emmett stayed in the store.
While in the store, he spoke to 21-year-old Carolyn Bryant, who was a white married owner of the business. While it has never been completely clear what transpired in the store, it does not actually matter. Whatever he did or said, whoever he looked at, or if he whistled at someone or not, it in no way excuses or justifies what happened to him. Ultimately, Emmett was accused of flirting with Bryant. Bryant told her husband, Roy, and several days later, Emmett was taken from his great-uncle's house by Roy and his half-brother J.W. Milam. Along with two other men they picked up to help, they beat and mutilated Emmett before shooting him in the head. They left his body in the Tallahatchie River where it was discovered three days later.
I cannot emphasize enough that while there is nothing that would ever justify what happened to Emmett, he was just a child who went in a store to buy CANDY. Although his death was not an unusual event for the South, it sparked nationwide attention. People became more outspoken about segregation and racial violence. Mamie demanded an open casket so that people who be forced to see what had been done to her son.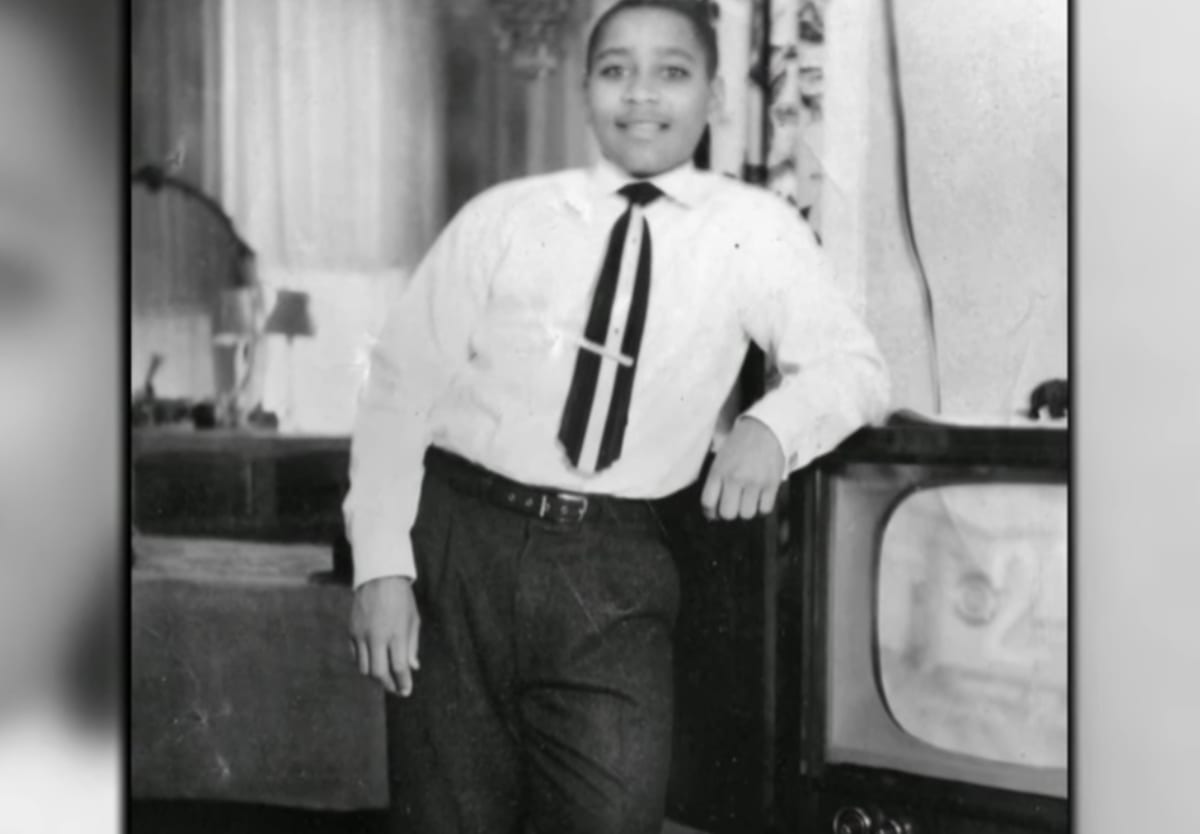 Despite admitting that they had taken Emmett, the two men, Bryant and Milam, were not indicted. Here are the assholes celebrating not being held responsible for the murder of a kid: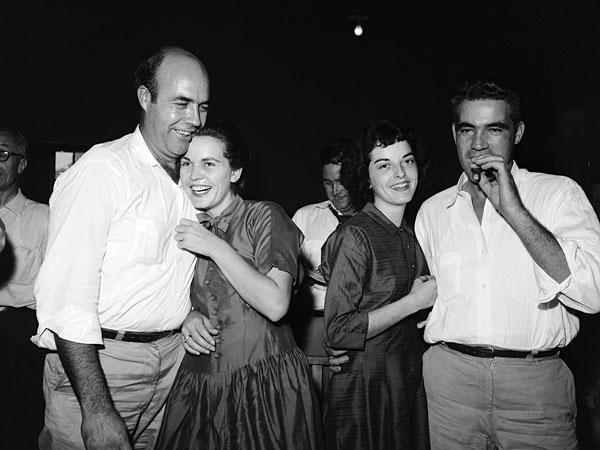 Carolyn Bryant initially testified during the trial that Emmett had grabbed her hand and asked for date, then later grabbed her waist and said, "What's the matter baby, can't you take it?" She stated that he had physically assaulted her and was sexually menacing toward her. In 2017, a 2008 interview with Carolyn Bryant was released and she said that Emmett had not done the things she alleged and that "nothing that boy did could ever justify what happened to him." TOO LATE, CAROLYN. There were also allegations that Emmett had whistled at Carolyn, but his mother described that he often whistled to help with his articulation when he would start to stutter.
After the funeral, the NAACP asking Mamie to tour the country to share about her son's life and the events leading to his death. It was one of the most successful tours in NAACP's history. In 1957 she gave marriage another shot, and wed Gene Mobley. In 1960, graduated from Chicago Teacher's College and started teaching. She continued to work as an activist to educate people about Emmett's life and wrongful death. She completed her master's degree from Loyola University Chicago in 1976. She was happily married to Gene until his death in 1999.
In 1992, she was able to listen to an interview with Roy Bryant where he claimed that Emmett Till had ruined his life. CAN YOU IMAGINE. You murdered a kid, and your life is ruined??? GOOD.
Mamie spent 40 years of her life advocating and helping children living in poverty. She served her community by teaching in the Chicago public school system for 23 years. She started "The Emmett Till Players," a group focused on engaging children outside of the school day. She was frequently interviewed and was working on her book when she died. Mamie was an influential speaker throughout the latter half of the 20th century, and used her role as a mother to help people understand racial justice. She worked to unite women around motherhood and to encourage female activism.
Mamie died of heart failure in 2003 at the age of 81. She lived through some of the worst experiences I can imagine, yet kept fighting to honor the memory of her son and to fight for civil rights.
Sources:
"Black Lives, White Lies and Emmett Till"
"Death of Innocence: The Story of the Hate Crime that Changed America."

"Emmett Till's Open Casket Funeral Reignited the Civil Rights Movement."
"Mamie Mobley, 81, Dies; Son, Emmett Till, Slain in 1955"
"How Author Timothy Tyson Found the Woman at the Center of the Emmett Till Case."
Emmett Till Biography