Aretha! My dad is a HUGE fan of The Blues Brothers, and that movie was my first experience with the Queen of Soul. Talk about a scene stealer!
Aretha Louise Franklin was born in Memphis in 1942. Her father, Clarence, was a preacher and her mother, Barbara, was an accomplish pianist and vocalist. When she was two they moved to Buffalo and by the age of five they relocated to Detroit permanently. Aretha's father had a well-known wandering eye, and in 1948 her parents separated. Barbara took her son from a previous marriage and moved back to New York. Aretha's mother continued to visit her children in Detroit and Aretha visited in the summer. Sadly, Barbara died just before Aretha turned 10.
After her mother's death, Aretha began singing solos at church. Aretha continued to be raised with the help of her grandmother and gospel singer Mahalia Jackson. Aretha learned to play the piano by ear and met famous gospel musicians as her father's fame as a pastor increased. At the age of 12, Aretha gave birth to the first of her four children, Clarence, in 1955. The father was a boy she knew from school. At age 14, she had her second son, Edward, who was named for his father. Both boys took her family name. The boys were partially raised by her grandmother and sister while Aretha pursued her career.
Aretha recorded her first song at 14 and shortly after dropped out of high school during her sophomore year. In 1956, she signed her first recording deal with J.V.B. Records and her first album, Songs of Faith, was released. Aretha toured with Dr. Martin Luther King, Jr. at the age of 16 and was asked to sing at his funeral in 1968.
At 18, Aretha told her father that she wanted to record pop songs. He began serving as her manager and helped her produce a two-song demo that was sent to Columbia Records. Columbia signed her as a "five-percent artist" which meant that she would make only a fraction of her male counterparts.
Her first Columbia single was "Today I Sing the Blues" and it reached the top ten of the Hot Rhythm & Blues Sellers chart in 1960. Aretha cranked out the hits during the 1960s despite struggling with commercial success at Columbia. John Hammond, a label executive, did not believe that Columbia knew how to understand and use her gospel background. Aretha married Theodore "Ted" White in 1961 and gave birth to her third son in 1964. The marriage was difficult and involved domestic violence. She and White divorced in 1969.
Aretha kept working, and in 1967 she did not renew her contract with Columbia and instead moved over to Atlantic Records. She recorded "I Never Loved a Man (The Way I Love You)" and the song was her first top ten pop single. In 1967, she recorded Otis Redding's "Respect" which became her signature single and has been used as a civil rights and feminist anthem.
Her debut album with Atlantic, I Never Loved a Man The Way I Love You, was a commercial success and later went gold. In 1968 she earned her first two Grammys. Aretha gave birth to her fourth son in 1970, he was the child of her road manager at the time, Ken Cunningham. She had top ten hits through the early 1970s including "Rock Steady" and "Spanish Harlem." In 1973, Aretha's career hit snags as her album Hey Now Hey bombed, and by 1975 her songs were no longer top sellers. After several more disappointments, Aretha left Atlantic in 1979. During this time, Aretha married again to actor Glynn Turman. Their relationship ended in divorce in 1984.
Aretha was with her long term partner Willie Wilkerson for much of the rest of her life. She signed with Clive Davis' Arista Records in 1980. That same year she performed in front of Queen Elizabeth at Royal Albert Hall and was a legendary guest star in The Blues Brothers. In 1981, she achieved another gold-selling record with Love All the Hurt Away and had a top 40 single for the first time in six years. She moved back to Detroit in 1982 to assist in the care of her father who had been shot twice in his home. In 1985, Who's Zoomin' Who? became her first platinum seller. Her musical successes were a roller coaster for the next two decades. She won another Grammy for "Wonderful" in 2003. She enjoyed numerous notable performances throughout the aughts, most notably performing at the inauguration of President Obama in 2008, the LARGEST INAUGURATION EVER.
In 2014, she was recognized with an honorary degree of Doctor of Arts from Harvard for her extraordinary contributions to music. She brought the house down during the 2015 Kennedy Center Honors with a performance of "(You Make Me Feel Like) A Natural Woman."
In 2017, she released her final album, A Brand New Me, with the Royal Philharmonic Orchestra. Her greatness has been attributed to her "vocal flexibility, interpretive intelligence, skillful piano-playing, her ear, her experience." Aretha passed away on August 16 at the age of 76 from advanced pancreatic cancer.
Aretha leaves a legacy as a musical genius, but some of her greatest work has largely been under the radar. She has been a long-time fervent and vocal supporter of civil rights, often lending her voice to perform at fundraisers and to support voter registration efforts. Franklin even risked her reputation for Angela Davis by publicly supporting her and offering to pay her bail. Despite being called a "dangerous terrorist" by Richard Nixon (sounds familiar…), Davis was eventually acquitted and history remembers her as a legendary activist. Aretha never stopped pushing and she never let the world silence her. She had a legendary talent and will always be the queen of the comeback. This world will never know a voice and talent like hers again.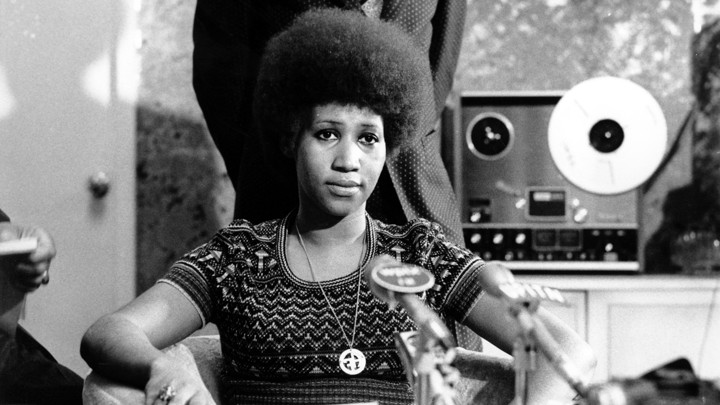 Additional reading:
"Aretha Franklin's Revolution: The soul singer was an architect of the civil-rights movement as much as a witness to it."
"Aretha Franklin's History with Civil Rights, from Martin Luther King Jr. to Barack Obama"
"Aretha Franklin, who defined an era as the Queen of Soul, dies at 76"
"How Aretha Franklin Survived Domestic Abuse: Inside Her First Marriage to Ted White"
"The Life of Aretha Franklin, In Her Own Words"