I was completely devastated when I learned that Anthony Bourdain died by suicide last Friday. It was an absolute gut punch and I felt like a friend was gone. I have so much respect and admiration for him, and he has had such a significant impact on my life. He always seemed so full of life, adventure, and curiosity, and it shows that we truly never know what burden or pain a person may be carrying.
A friend gave me Kitchen Confidential in college after I had taken a semester of restaurant and hotel management courses (a major that I quickly realized I was a poor fit for) and was traumatized by an internship in a fancy restaurant. I had no idea who Bourdain was, but I was enthralled by his book. Not long after, No Reservations premiered on the Travel Channel, and I was addicted.
At that point in my life, I had a pretty crap relationship with food. I had gained weight from prednisone, and I was desperate to lose it. I was eating low-calorie garbage and Slim-Fast to try and slim down. It was not working. I did not enjoy food, and I spent a lot of time stressing about it, feeling guilty, and being upset with myself. Watching No Reservations completely changed my mindset. I started getting interested in eating good food for sake of enjoying a great meal, and I also starting learning to cook a more diverse range of foods and dishes. He inspired me to expand my palate and to see food as a gateway to a new culture. I think most of what I ate in college was nachos and peanut butter sandwiches, so there was a lot of room to grow.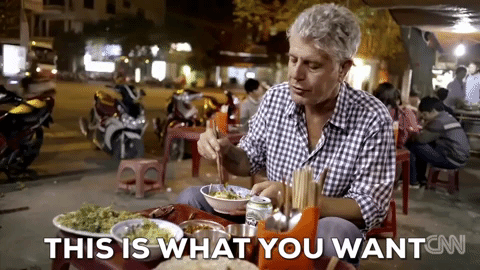 Week after week, he introduced me to places I had never thought about and wonderful people across the globe. I learned so much from him, and I loved the way he always treated the people he was around as if they were special and important. He was never ashamed to love an inexpensive meal, and he always appreciated the people who prepared it for him. I loved his unapologetic love of food.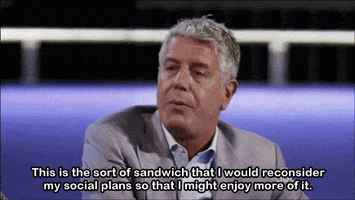 My love of him grew even more when he started dating Asia Argento. I was so impressed by his unflappable support of her as she faced unbearable criticism and hate after speaking out against Harvey Weinstein. He supported women sharing their stories, championed their voices, and also confronted his own behavior and role in a system that oppresses women. He criticized his own industry for their use and abuse of immigrants, specifically undocumented workers. He was not a perfect person because no one is, but he used his power and his position to magnify the voices and experiences of the vulnerable.
I love his sense of humor, his naturally curmudgeonly ways, and the fact that he always seemed like a deeply decent human who wanted to create a better world where people were not afraid of what might be different or unfamiliar. I do not know that I would have traveled to India without the influence of Anthony Bourdain in my life. He inspired me to live a more adventurous life, and at least half of the places I hope to see one day are on my list because he showed them to me first.
I feel so deeply sad that he was facing such pain that he took his own life. Mental health issues can affect anyone, and they often silently eat away at even the strongest. It is hard to see what a wonderful life he had and to know that no amount of success, wealth, or joy can change the fact that we all face our own demons. There was so much more for him to do, and we definitely need more people in this world who share his kind of humanity.
The CDC recently released data that over the past two decades, nearly every state has seen an increase in death by suicide, and over half have seen an increase of over 30%. The most surprising aspect of the findings is that 54% of the people who died by suicide had no previously known mental health issues: "Instead, these folks were suffering from other issues, such as relationship problems, substance misuse, physical health problems, job or financial problems, and recent crises or things that were coming up in their lives that they were anticipating."
Check in with your friends and family, and ask them how they are really doing. Here are five steps you can take to help someone who might be suicidal. The National Suicide Prevention Lifeline is available 24/7 for confidential support for you or if you know someone who is struggling. Their number is 1-800-273-8255.
Efforts to prevent suicide cannot merely focus on people who reach out – we have to work to connect with and support folks who never see a doctor and are experiencing personal challenges or crisis. I know it is far more complicated than a few paragraphs can cover, but together we can destigmatize mental health issues, addiction, and reaching out for support.
The post Magnificent Man Monday appeared first on Running off the Reese's.