Happy Halloween!
Visiting Apple Hill has quickly become on my favorite things to do in this area. I love apples, and I REALLY love apples in baked goods. I had an event to attend for work on Saturday afternoon, so we got up early that morning to beat the crowds on the Hill. We arrived just after 8 and were delighted by the complete and total lack of people. We started with donuts at Rainbow Orchards. You really can't beat fresh apple cider donuts on a crisp morning. And they're even better when you don't have to wait in line for them.
And they had a great tree:
After snacking on donuts, we drove about four minutes to Abel's Acres to get a caramel apple. We had not been there before, but I read about their caramel apples in a local magazine and we decided to make them a priority on this trip. I got an apple covered in caramel, then dipped in vanilla fudge, then rolled in cinnamon in sugar. It was AWESOME. I ate all of the outside and at least 1/3 of the actual apple because I needed to save more room for more sugar later. It's all about priorities.
They also had Butterfinger caramel apples:
I suggested they makes Reese's apples in the future, so I will be expecting that when I visit next year. We also bought one of their apple donuts for the sake of a robust sample size. It was also wonderful.

After Abel's we drove to Delfino Family Farms for a nature hike and some pie. That half mile really helped us work up an appetite.
And then we had a "walking pie" which is created specifically for ease of transportation. I think this is my favorite pastry item on Apple Hill because the apples are chopped instead of in big slices. Also, it has a caramel cider sauce on top that I want to embalm myself with.
We finished up our morning at Jack Russel Brewing Company. Last time we were there it was crazy crowded and we had to wait in a long line for parking. This time we arrived shortly after they opened and there were maybe three other people. It was PERFECT. I got a sampling of hard ciders and while I don't always enjoy cider, I loved their peach one.
Since we were there early, it was uncrowded and we managed to hit all of our spots quickly and still go home shortly after noon. I was on the couch just in time to get in a nap before my afternoon work event.
After my work thing, I started the new season of Stranger Things. I am not finished with the season, but I don't really know where we are going yet. I have a hard time watching scenes with Joyce because she gives me so much anxiety. She's like a permanently freaked out deer. It's from zero to a billion with her every time. SIMMER DOWN. Also, GREATLY WORRIED FOR HOPPER.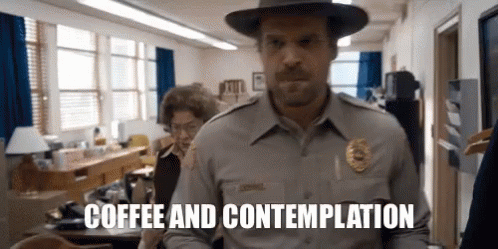 And, that poor cat. Dustin, what the hell, man?
On Sunday, I went to OTF, cleaned the house, and meal prepped for most of the day. I also wrapped some gifts to send people and Alan was SUPER HELPFUL with that task. I didn't know he had a passion for tissue paper, but he is apparently obsessed. He sneakily ate so much of it that he later vomited up a colorful paper wad on my bed. He's such a treat.
I also watched some more Stranger Things and the newest episode of Outlander.
SPOILERS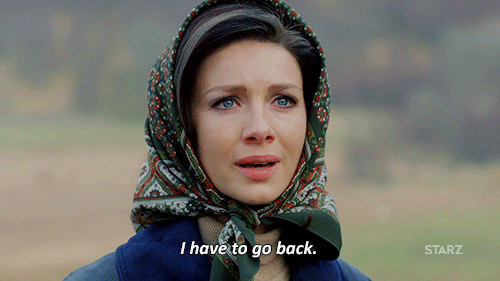 Did we even make it a full 24 hours before Claire had already gotten them into a kerfuffle? She really has a knack for causing problems. I'm all for a strong and independent lady, but it's not 1969 anymore, Claire. TREAD LIGHTLY. Poor Jamie. Everything he tries to do ends in a mess. RIP, print shop!
I am EXTREMELY excited for the next episode and the revelation of the "other wife." Drama ahead! I'm also pleased to see from the previews that Jenny is PISSED at Claire. AS SHE SHOULD BE. Girl, you don't just go MIA and show back up decades later expecting everything to be A-OK. I wish we could get a Jenny spin-off  show of her sassing around Lallybroch. Jenny is not here for your nonsense. I also can't remember what happens with the seer sister, but I do know that it will be completely dramatic.