1. I am so glad this week is over. Lisa and I have both been battling what seems like a cold (maybe something from the wind last weekend?) since we got back. We made it to work all week and to our evening work events, but it was a struggle. I am looking forward to going to bed at 7 pm tonight and spending tomorrow at a food and wine festival. That will definitely cure what ails me.
That will forever be funny to me.
2. This article on the details of how the police used DNA to nab the Golden State Killer/ East Area Rapist is wild. It is all so incredible. I know this is totally inappropriate, but Paul Holes is SO CUTE.
3. Also, HBO is working on an I'll Be Gone in the Dark docu-series!!!!!!!!!!!! I'm almost finished with it, and I am so happy for anything that continues to highlight Michelle McNamara's efforts and the work of everyone who has spent decades trying to solve this case.
4. This whole "incels" (involuntary celibacy) thing blows my mind. I do not know what to tell you if women do not want to have sex with you, but maybe it has something to do with your belief that you have a right to sex or that it is owed to you. Get some therapy, learn how to talk to women, and treat them like humans. The original BS article on the "Redistribution of Sex" from the NYT is here.
5. I bought the first season of The Terror through Amazon this week (it aired on AMC), and HOLY MOLY THE INTENSITY. I read the book when it came out and it gave me nightmares for weeks.
6. "Should I Dump My Toxic Friend?"
Life is too short for that kind of drama.
7. Will Ferrell and Molly Shannon will cover royal wedding as Cord and Tish for HBO. AHAHAHAHA. I can't wait to watch that – AFTER I have seen the official serious coverage, of course.

8. I do not blame Meghan Markle at all for deciding not to invite the majority of her family to her wedding. They sound like THE WORST. They have bashed her since day one of this and openly provided personal information and pictures. They then seem to be baffled that they are not invited. I would totally be embarrassed by these people too. Her brother sounds like a real POS. You do not get to choose your family, but you sure as hell can exclude them from your life.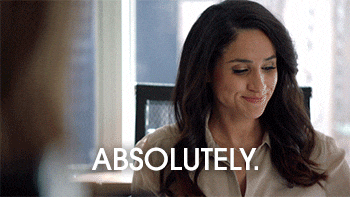 9. "Franklin Barbecue, Rising From the Ashes." Lord how I miss real barbecue.
10. A Stagecoach-inspired tune to send you off into the weekend!